WIRE-O NOTEBOOK (HARD COVER)
Artwork Dimension – Cover (Refer Diagram)
Bleeding – 2mm from all sides of the edge
Safe Zone
a) Front Cover – 20mm from all sides of the edge – Except left side, 28mm from edge
b) Back Cover – 20mm from all sides of the edge – Except right side, 28mm from edge
Artwork Dimension – Content (Refer Diagram)
Bleeding – 2mm from all sides of the edge
Safe Zone
a) Front Content – 5mm from all sides of the edge – Except left side, 13mm from edge
b) Back Content – 5mm from all sides of the edge – Except right side, 13mm from edge
Wire-O Information
WIRE-O NOTEBOOK (SOFT COVER)
Artwork Dimension – Cover (Refer Diagram)
Bleeding – 2mm from all sides of the edge
Safe Zone
a) Front Cover – 5mm from all sides of the edge – Except left side, 13mm from edge
b) Back Cover – 5mm from all sides of the edge – Except right side, 13mm from edge
Artwork Dimension – Content (Refer Diagram)
Bleeding – 2mm from all sides of the edge
Safe Zone
a) Front Content – 5mm from all sides of the edge – Except left side, 13mm from edge
b) Back Content – 5mm from all sides of the edge – Except right side, 13mm from edge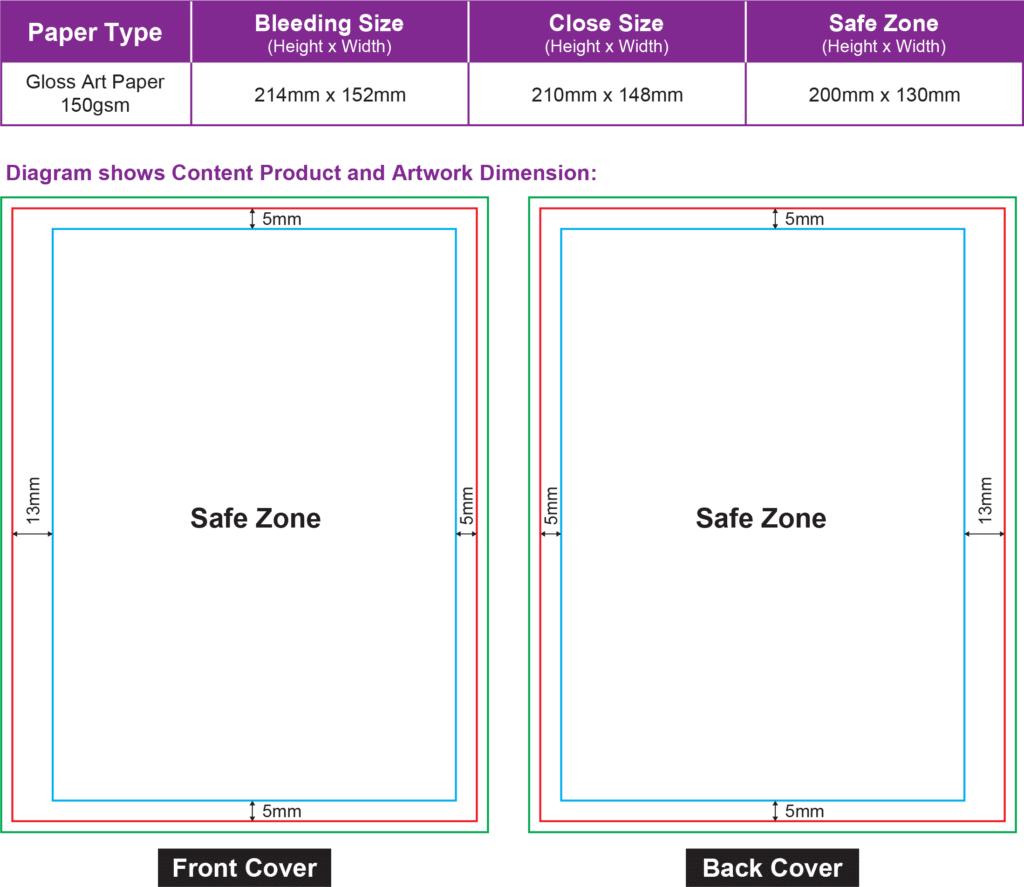 Wire-O Information

Image
-Ensure all the image are in CMYK color mode. -Ensure resolution of all images are set to 300dpi or above.
Font
-Font size is not less than 4.0points.
Line
-Line thickness is not less that 0.25points
Marking and Trapping
-Do not apply any crop mark and trapping to your files, including box or bleeding marking or margin marking.
File Preparation
-Artworks are required to save in file format Adobe Acrobat Document 4 – version 1.3 (.pdf). -Resolution 300dpi and color mode CMYK. -PDF files must prepare for artwork according types of product.
HARD COVER ARTWORK FILE PREPARE
Page Arrangement for 92 Sheets Hard Cover Wire-O Notebook in TWO PDF file
File 1. Cover Page 1: Front Cover Page 2: Back Cover
File 2. Content Page 1-24: Additional Customize Content (Front and Back)
Page Arrangement for 84 Sheets Hard Cover Wire-O Notebook in TWO PDF file
File 1. Cover Page 1: Front Cover Page 2: Back Cover
File 2. Content Page 1-8: Additional Customize Content (Front and Back)
Page Arrangement for 88 Sheets Hard Cover Wire-O Notebook in TWO PDF file
File 1. Cover Page 1: Front Cover Page 2: Back Cover
File 2. Content Page 1-16: Additional Customize Content (Front and Back)
Page Arrangement for 80 Sheets Hard Cover Wire-O Notebook in ONE PDF file
File 1. Cover Page 1: Front Cover Page 2: Back Cover
SOFT COVER ARTWORK FILE PREPARE
Page Arrangement for 92 Sheets Soft Cover Wire-O Notebook in ONE PDF file
Page 1 : Front Cover
Page 2 : Inside Front Cover
Page 3-26: Additional Customize Content (Front and Back)
Page 27 : Inside Back Cover
Page 28 : Back Cover
Page Arrangement for 88 Sheets Hard Cover Wire-O Notebook in TWO PDF file
Page 1 : Front Cover
Page 2 : Inside Front Cover
Page 3-18: Additional Customize Content (Front and Back)
Page 19 : Inside Back Cover
Page 20 : Back Cover
Page Arrangement for 84 Sheets Hard Cover Wire-O Notebook in TWO PDF file
Page 1 : Front Cover
Page 2 : Inside Front Cover
Page 3-10: Additional Customize Content (Front and Back)
Page 11 : Inside Back Cover Page 12 : Back Cover
Page Arrangement for 80 Sheets Hard Cover Wire-O Notebook in ONE PDF file
Page 1: Front Cover
Page 2: Inside Front Cover
Page 3: Inside Back Cover
Page 4: Back Cover
ARTWORK FILE PREPARE FOR SPOT UV OR HOT STAMPING OR BOTH
Page Arrangement for the order with Spot UV
Additional attachments are required for Spot UV according to page arrangement as following:
Page 1 : Front Cover with printable artwork
Page 2 : Spot UV artwork with Process Black Colour (K100)
Page 3 : Back Cover with printable artwork
Page 4 : Spot UV artwork with Process Black Colour (K100)
Page Arrangement for the order with Hot Stamping
Additional attachments are required for Hot Stamping according to page arrangement as following:
Page 1 : Front Cover with printable artwork & hot stamping
Page 2 : Printable artwork only
Page 3 : Hot Stamping artwork with Pantone Colour Code
Page 4 : Back Cover with printable artwork & hot stamping
Page 5 : Printable artwork only
Page 6 : Hot Stamping artwork with Pantone Colour Code
Page Arrangement for the order with Spot UV + Hot Stamping
Additional attachments are required for Spot UV + Hot Stamping according to page arrangement as following:
Page 1 : Front Cover with printable artwork & hot stamping
Page 2 : Printable artwork only
Page 3 : Spot UV artwork with Process Black Colour (K100)
Page 4 : Hot Stamping artwork with Pantone Colour Code
Page 5 : Back Cover with printable artwork & hot stamping
Page 6 : Printable artwork only
Page 7 : Spot UV artwork with Process Black Colour (K100)
Page 8 : Hot Stamping artwork with Pantone Colour Code
Page Arrangement for the order with more than 1 Hot Stamping
Additional attachments are required for Hot Stamping according to page arrangement as following:
Page 1 : Front Cover with printable artwork & hot stamping
Page 2 : Printable artwork only
Page 3 : Hot Stamping artwork with Gold Pantone Colour Code
Page 4 : Hot Stamping artwork with Silver Pantone Colour Code
Page 5 : Back Cover with printable artwork & hot stamping
Page 6 : Printable artwork only
Page 7 : Hot Stamping artwork with Gold Pantone Colour Code
Page 8 : Hot Stamping artwork with Silver Pantone Colour Code