Protective Finishing refers to value-added operations that are performed after the ink has been applied to the paper. 
1. Laminate
This is the process of applying a thin layer of plastic to paper or card sheets to enhance and protect the printed surface.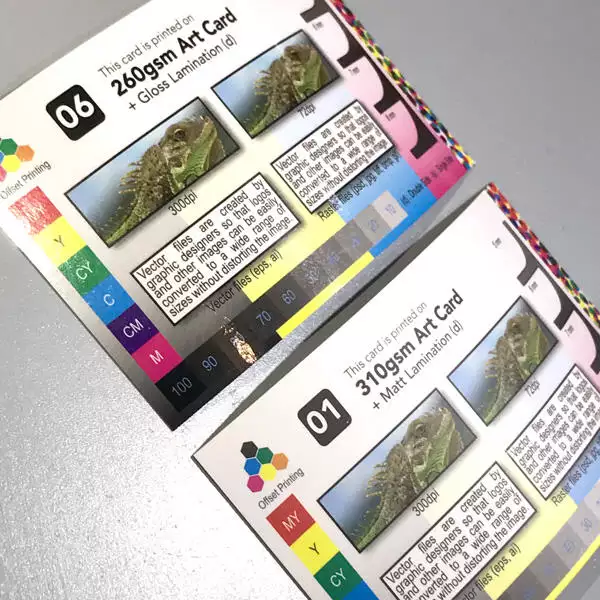 Matt Laminate: It gives a subtle, tactile effect that oozes quality, great for items where image and first impressions mean everything.

Whilst forming a protective coating over the print, it does not provide the same level of protection as gloss lamination and can be prone to scratching and fingerprints especially where folding is involved.

Gloss Laminate: Gloss is more high profile, it adds a high gloss sheen often used on brochure covers, menus, magazine covers or presentation folders. It is definitely the high impact option.

Soft Touch: It looks like a standard matte finish, but adds extra depth. Soft touch, or velvet, lamination, appeals to the sense of touch. The smooth velvet feel creates a luxurious experience for anyone holding your product.
2. Spot UV
Spot UV refers to the application of this UV Coating to a specific area (or areas) of a printed piece rather than coating the entire surface. Used primarily as a design technique, Spot UV is a creative way to add depth and contrast through varying levels of sheen and texture.
3. Waterbased Varnish
Waterbased (or Aqueous) Varnish is a water-based coating that is applied to the press sheet. This varnish process allows the resulting product to look as if it "pops" more off of the page, and also protects the product from scratches, sticky fingerprints, scuffs and other marks that could deter from its vibrant looks.
4. UV Varnish
UV coating is a clear compound that is applied to paper wet, then instantly dried by ultraviolet light (UV coating is short for ultraviolet coating). It gives a gloss reflective finish.