1) Area/Image to be hot stamped must be within the Safe Zone. (only within L shape safe zone)
2) Hot stamping artwork (image) can be bleed out (only within L shape safe zone), but stamping for important text MUST within Safe Zone.
3) Font size 7.0 pt. Note: When using minimum pts, do not bold font as they will appear coarse and over bleed. For Reverse Effect where hot stamped area excludes font, avoid using Serif fonts. Use bold San Serif font (minimum 10 pt with Line Thickness: 1 pt). Line thickness 0.5 pt.
4) Fill area/image to be hot stamped with either,
5) Image to be hot stamped must be in Vector format, solid colour and without any tint or gradient fill.
6) Ensure registration of image to be hot stamped is accurately aligned.
7) Hot stamping and creasing / folding must have distance 3mm to avoid crack issue *Must to TAKE NOTED and take your own risk if still want proceed this issue
Full Colour Printing
IMPORTANT
You will have to prepare 3 PDF files + 1 PDF file for Reverse Side (If applicable):
Page 1: 1 file for the full artwork,
Page 2: 1 file for the artwork without the image to be hot stamped and,
Page 3: 1 file for the image to be hot stamped.
Preparing Hot Stamping format in Adobe Illustrator
1. Select your hot stamping part. Make sure hot stamping part not in JPEG.
2. Select "Window" > "Swatch Libraries" > "Color Books"
Please select the color code follow category show below to represent the hot-stamp colour: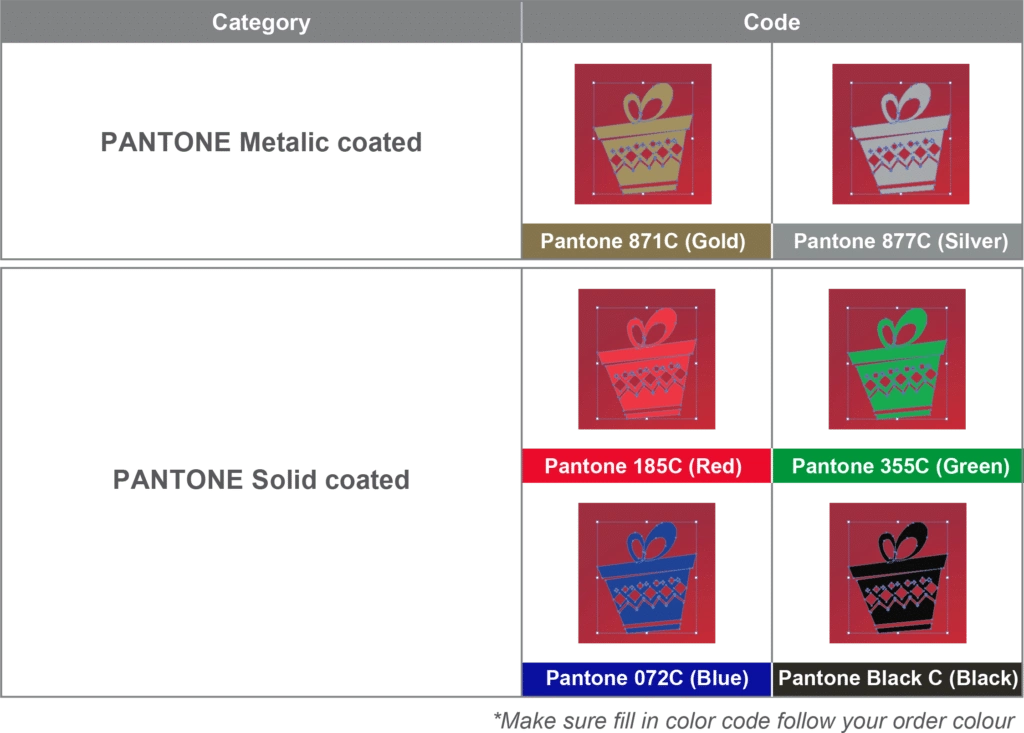 3. Select "Show Find Field"
4. Enter your hot stamping code.
5. Select the highlighted code.
Hot Stamping Safe Zone
L Shape Safe Zone
L Shape Safe Zone
Possible Mis-Registration Problems
Applying hot stamping on top of fonts or images require accurate registration. Here are some possible problems that may occur due to poor registration. We will not accept artwork which contains the following registration conditions as shown below.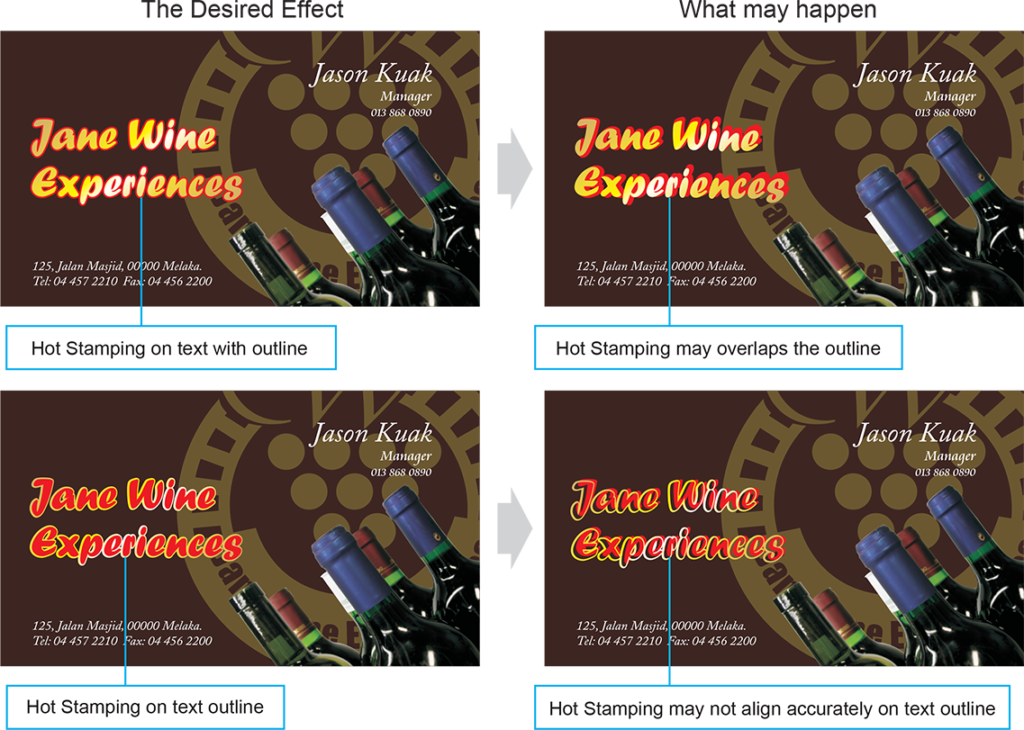 Hot Stamping Tolerance
Hot stamping may cause the card thickness to become uneven and packed cards may become slightly curved (i.e. not flat when placed on table, in wallet, card holder, etc). Expressprint shall not accept any rejects claims for curved Business Cards due to these factors.
For products with thin paper material such as money packet, art paper or simili loose sheet with hot-stamping finishing, stamping pressure may leave a stamping mark on the back of the product. Hence, members shall notice this risk and Expressprint shall not be held responsible for the stamping mark on the back.
Reverse Effect For Hot Stamping
The example below is reverse hot stamping:
The requirement to do for reverse effect hot stamping:
Do not use Serif font type. Such as "Times New Roman"
Use only Sans Serif fonts and bold the font. Such as "Arial"
Minimum 10pts for font size and 1pt for line thickness.
It is only applicable to Matte lamination Art Paper / Art Card series with condition reverse area should not more than 35mm(H) x 70mm(W).

It is not applicable to materials with the condition listed below:
– Uneven surface paper material (such as conqueror paper / card, fine card suwen and linen)
– Plastic material
– Metallic card
– Super white
– Gloss Lamination
Both side artwork with reverse hot stamping is not applicable.
Actual print