Kad Kahwin Artwork Specification
DIE LINE PRECAUTION FOR CUSTOM DIE CUT
Cutting Edge Tolerance: + – 1mm Below are mis-registration scenario that can be happen during the die-cut process when die line is not correctly placed, as + – 1mm cutting edge tolerance has to be taken into consideration. Scenario 1: What happens when die line falls exactly on the artwork line

Scenario 2: What happens when die line is exactly on different colour background.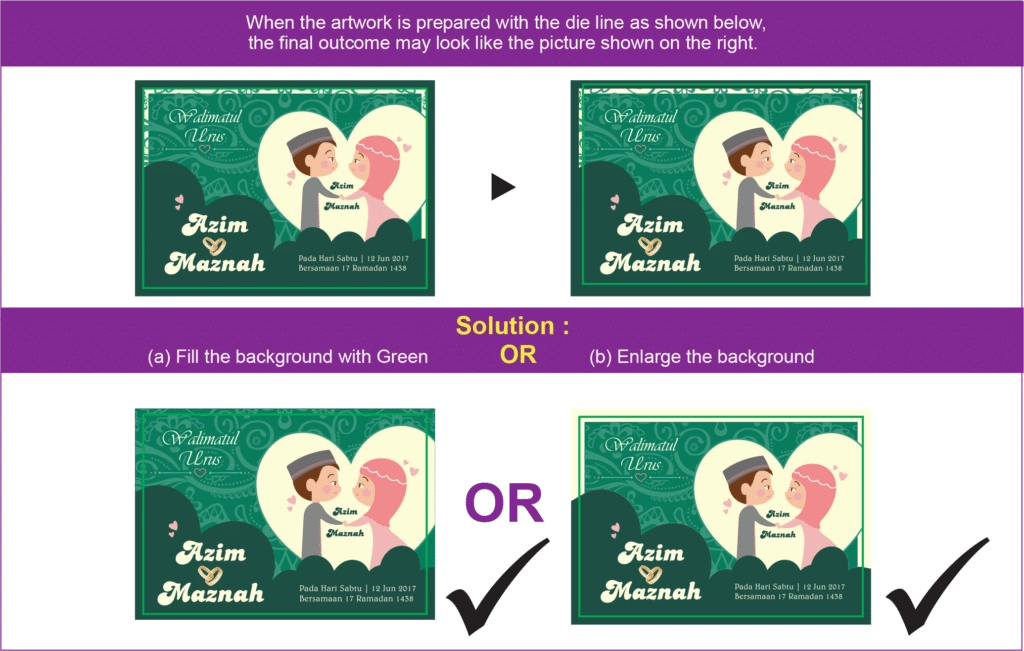 * Member is advised to revise artwork when these problems are detected. * Printboxer shall not be held liable for any of defect in printing outcome due to artwork sent not correctly prepared as advised.
GAP BETWEEN MULTI-EDGES DIE LINE
How to define "Multi-Edges Die Line" – More than 5 cutting edges within 10mm.
ONLY ONE DIE LINE IS ALLOWED
CUSTOM DIE-CUT IS ONLY ALLOWED ON ONE SIDE OF 1FA FOLD
Minimum 20mm away from the creasing line.
FILE PREPARATION FOR CUSTOM DIE-CUT
Artwork without any optional finishing Front Page 1: Overview artwork (CMYK + Die Line) Page 2: Printable artwork only (CMYK) Page 3: Die Line only Back Page 1: Printable artwork only (CMYK)
ARTWORK
-Artwork is prepared in our Product Size Templates -Background design expand to Full Bleed size -Vital elements are within Safe Zone -No crop mark are applied
FONTS
-No fonts of less than 4 pts -Curve / Path / Create outline all fonts
DESIGN
-All images have been exported / converted : Background, design effects, photos, images to TIFF files (not including text / vector images) -Never manipulate images in layout program -Resolution : 300 dpi -Color Mode : CMYK color mode
LINE WEIGHT
-No lines are less than 0.25pts -Color : CMYK mode
MARKING & TRAPPING
-Never apply any crop mark or trapping onto the files.
FILE FORMAT
-PDF File Format -Artwork is saved in required file format : Adobe acrobat Document (*.pdf) -Resolution : 300 dpi -Color Mode : CMYK color mode -Total File Size (front and back design) : smaller than 20 MB
FINISHING
For full details of how to prepare your artwork for finishing such as – Spot UV – Hot Stamping – Round Corner Kindly refer to the General Guidelines at our website.