BLEEDING & SAFE ZONE
Bleeding : 2mm from each side.
Safe Zone : 5mm for top, left & right edges. While 10mm for bottom edge.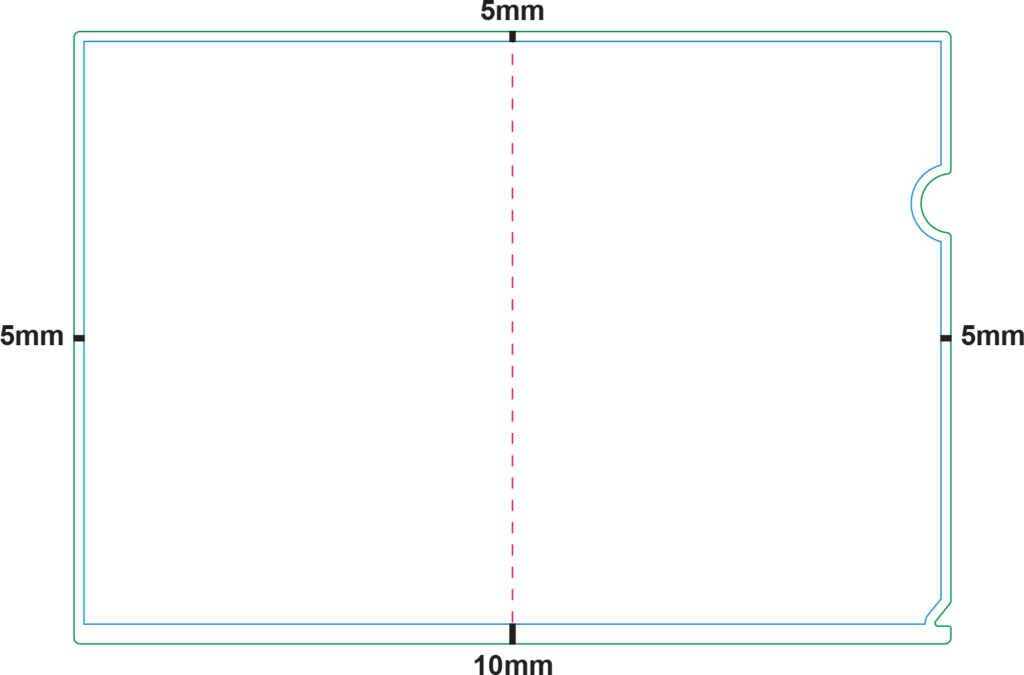 ARTWORK PRECAUTION
Folding Tolerance : +-1mm Recommend to use same background colour while prepare artwork to avoid colour overlap onto other page after folding.
IMPORTANT:
PLEASE AVOID YOUR ARTWORK CONTAIN DESIGN OR LAYOUT AS BELOW:
1. Different Colour Background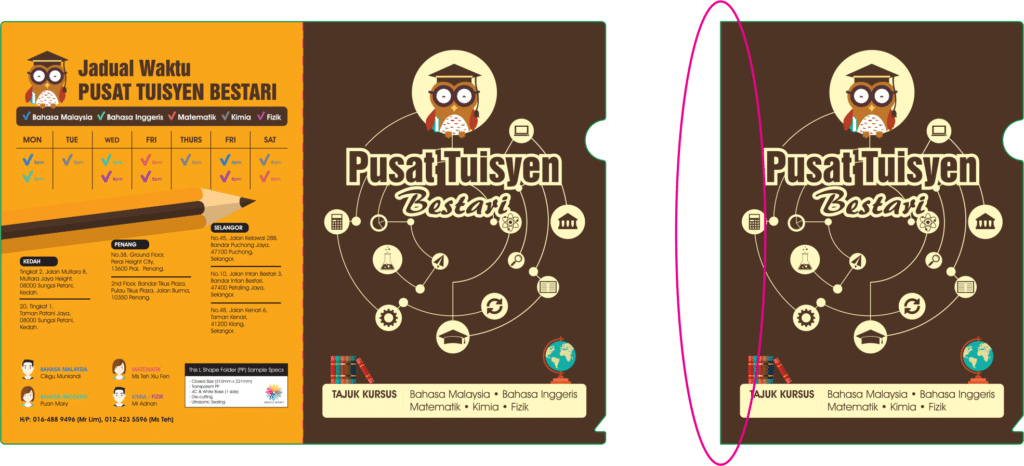 2. Background artwork with stripe design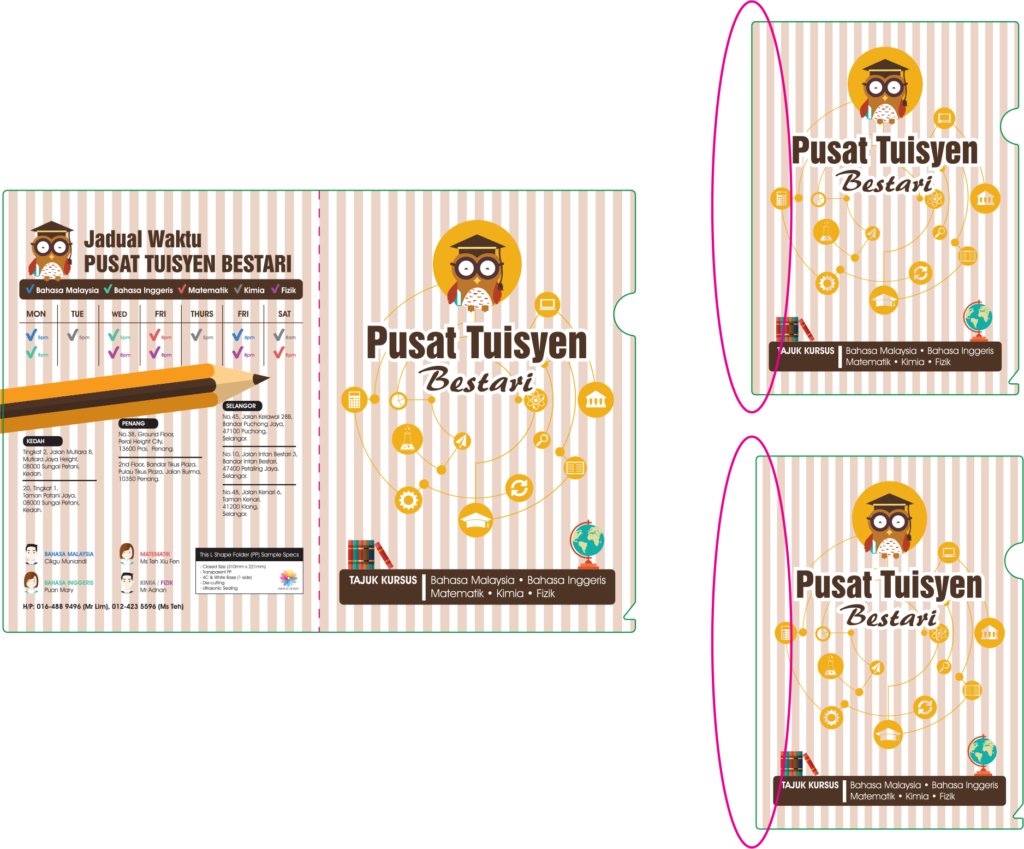 3. Extended graphic on the folding line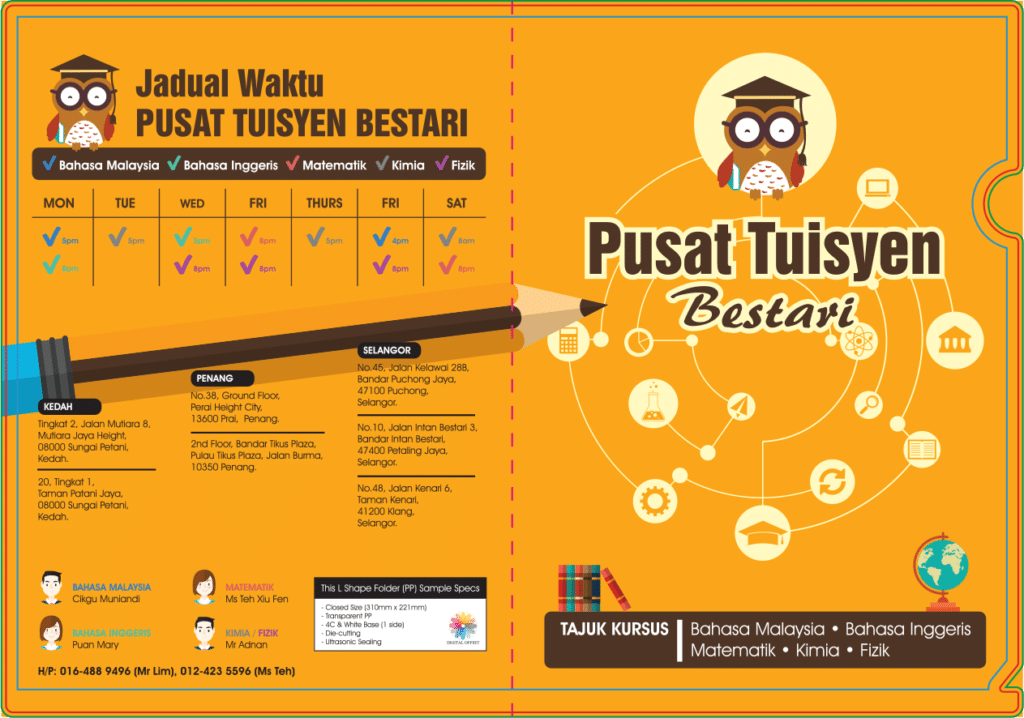 REMARK: EXPRESSPRINT WILL NOT HELD ANY RESPONSIBILITY IN THE CIRCUMSTANCES SHOWN AS ABOVE.
SUBMIT ARTWORK FOR L-SHAPE PLASTIC FOLDER FILE

IMPORTANT NOTES IN PREPARING WHITE BASE ARTWORK
Fill the artwork with black (K100) to indicate the area for white base.
Rename colour to precisely " White" to indicate the area of white base instead "WHITE" or "white"
*Expressprint will not held responsibility on any wrong white spot colour naming error. (eg. "WHITE" or "white" or "White(space)" )
Only use Adobe Illustrator to prepare the white base artwork.
JPEG file format or JPEG save in PDF format is not allowed while prepare white based artwork.
White based artwork must prepare in VECTOR Rename the color swatch name by using Adobe Illustrator
STANDARD CHECKLIST :
COLOUR
Use ONLY CMYK colour mode in your artwork -No colour tints (toning) lower than 10%
Do not set black colour to (C=100 M= 100 Y= 100 K= 100)
Make sure the value between colours are at least 10% of different. (Tint / toning effect more obvious)
LINE
Line weight not less than 0.25points (Not applicable for Pre-Inked stamp,spot UV,Hot Stamping)
IMAGES
All images are in CMYK colour mode
Resolution of all images are set to or above 300dpi.
Scanned line Art/Black & White images resolution are set to or above 1200dpi.
Do not manipulate images using a layout program
TEXT
No font less than 4points -Curve / Path / Create outline all fonts
ARTWORK
Artwork is prepared in our Product Size Templates
Background design expand to
Full Bleed size
No crop mark are applied
Ensure artwork orientation
DESIGN
All images have been exported / converted : Background, design effects, photos, images to TIFF files (not including text / vector images)
Never manipulate images in layout program resolution: 300 dpi -Color Mode: CMYK color mode
FILE FORMAT
Artwork is saved in required file format : Adobe acrobat Document (*.pdf)
Resolution: 300 dpi
Color Mode: CMYK color mode
FILE NAME
MARKING & TRAPPING
Never apply any crop mark or trapping onto the files.