Enjoy FREE shipping to Peninsular Malaysia
Enjoy FREE shipping to Peninsular Malaysia
Button Badge – Artwork Specification
Button Badge – Artwork Specification
Bleeding : 6mm from all sides of edges (Artwork Dimension)
Margin : 5mm from all sides of edges (Safe Zone)
v) Magnet Bottle Opener (BB4569 MBO)
Oval Shape 45mm x 69mm
Bleeding Size : 57mm x 81mm
Safe Zone : 35mm x 59mm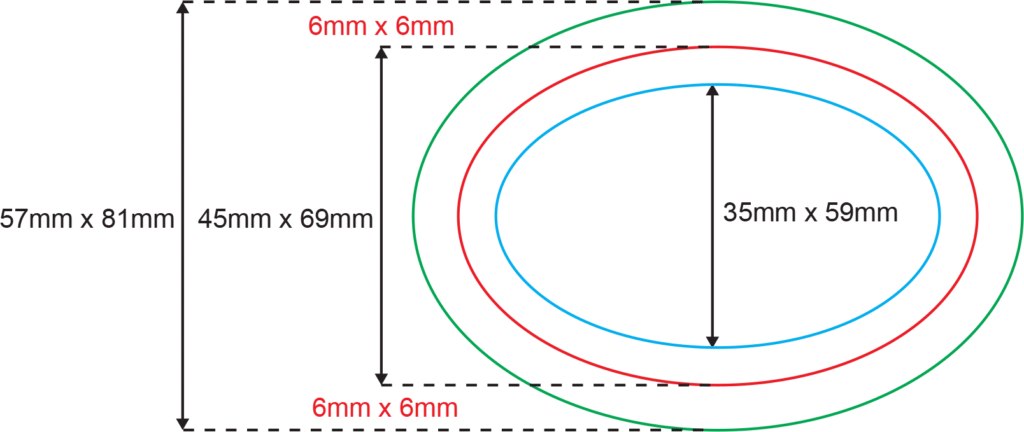 ARTWORK PREPARATION
Artwork can be a vector graphic(vector) , text , shape or solid color.
Artwork must be followed to the Die-line precaution. Please double check to ensure the artwork position is following to our setting.
Artwork is saved in latest format of Adobe Acrobat Document (.pdf)
PDF file for Button badge artwork must prepare as below:
Page 1 : Printable Artwork (Which Bleed until Die-cutting line)


EXAMPLE
ARTWORK PRECAUTION
We will NOT held any responsibility for the artwork prepared as below.
Any artwork positioning variance of less than or equal to 1.0mm will NOT be given compensation.
Refer scenario 1&2 in the table below as reference guideline.


Scenario 2 tells that, please make sure the artwork is in a full bleed condition, to prevent the risk of misregistration.
© 2023 Expressprint All rights reserved.